About Family Connections
At Family Connections, parents learn positive parenting skills while their children develop the skills necessary to succeed in Kindergarten and beyond.
Family Connections is the only parent-child participation program exclusively dedicated to low income families in San Mateo County, serving over 400 individuals each year with bilingual education. Founded in 1993, Family Connections has helped over 1000 families jumpstart their kids' education.
The Family Connections program and curriculum is modeled after Little Hands, a parent-child cooperative program in Belmont which has been serving the Bay Area for over 30 years. At Family Connections, students and their parent or guardian attend class two or three times a week together in a unique parent participation setting where both the parent and child receive education. Children attend preschool and parents gain training on basic parenting skills.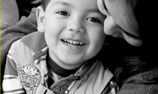 Having an impact on the Bay Area low income community.
Family Connections is growing. We added a new site in Redwood City in the fall of 2008 to extend coverage to three cities: Menlo Park, East Palo Alto and Redwood City. In our history, Family Connections has never turned down a request from a parent from a low income family to attend our tuition free preschool.
Family Connections is unique in offering classes for parents along with their preschoolers as well as offering preschool to a wider range of ages (from newborn to five years old) and including a larger community of low income households that might not otherwise be able to afford preschool.
Preparing low income children in San Mateo County for the classroom.
Feedback from the kindergarten teachers of children who have gone through a pre-kindergarten program run by Family Connections report that Family Connections' students are better prepared for their classroom. The students know how to hold a pencil; they have experience sitting quietly at circle time; they can recognize their printed name; and they have experience communicating with other children their age.
Teaching parents to be more effective leaders in their children's education.
Family Connections' program is unique in educating not only the child but also the parents—and it shows. Family Connections' parents are more involved in their children's classroom once their kids graduate from Family Connections and attend K-12 schools: 71% of Family Connections parents attend or help with school fundraisers or events; 46% volunteer in their kids' classrooms; and 29% serve on the ELAC or PTA. – Survey conducted over the phone with Family Connections alumni in 2006.
Family Connections parents realize the importance of helping their children with their homework and staying involved in their education throughout elementary school because they've been involved from day one. At Family Connections, parents work hands-on with their children and the teacher in group projects and one-on-one. They are also required to attend sessions in the classroom and volunteer at school events.
Building community.
Many Family Connections families are immigrants: new to this country and isolated far from home. Family Connections helps build community, providing a friendly caring setting where parents can make friends with other parents and seek guidance from teachers. Fathers may attend evening sessions or get involved in Family Connections events – even attend our Saturday classes.
Additionally, we partner with a number of county-based service organizations that provide resources to help Family Connections' families cope with the many challenges they face as low income non-English speakers in our community. We provide families with referrals to our partner agencies for health, food and clothing needs as well as family counseling, education/learning specialists, and more.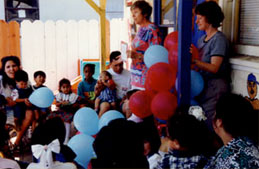 Family Connections families, along with Founding Director Margo Keeley and former Executive Director Robin Holcomb in 1996 at Families in Transition building in East Palo Alto.
"After graduating from Family Connections when my son went to Kindergarten, I helped in the classroom as a teacher's aid during the art program. I wanted to see his development in the classroom. He was happy to see his Mom there too!"