Events
Family Connections holds two major fundraisers each year: "An Evening with Children's Authors" in the fall, and the "Car Raffle" in the spring. Our families and local volunteers work together at these events to raise money for Family Connections. These fundraising events provide valuable experience for our families on how to raise funds for our school and give our over 100 volunteers the satisfaction of working side by side with our families. And every cent of proceeds from our fundraising ticket sales goes toward providing our free preschool program to low income families.
Spring Car Raffle
We will again be participating in the car raffle in 2009, thanks to the incredible support of the Rotary Club of Redwood City. This year, the prize is a new hybrid Toyota Prius!! The Redwood City Rotary Club and its supporters have purchased the car. Tickets are $5. The winner chooses either the Prius car or $18,000! Every cent of your $5 raffle ticket goes towards providing our free preschool program to low income families.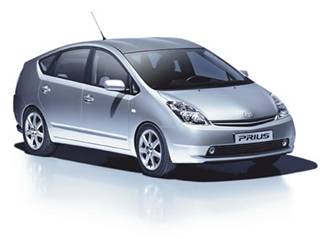 To Purchase Tickets:
• Call (650) 592-4862
• Download the Spring Car Raffle flyer and mail it to Family Connections, P.O. Box 358, San Carlos, CA 94070 or fax it to (650) 592-4862.
For more information, please see our FAQs or email us at director@familyconnections.org.
An Evening with Children's Authors

An Evening with Children's Authors is an annual fundraiser hosted by Family Connections in the fall each year. The event features renowned children's authors and illustrators such as Mollie Katzan, Peggy Rathman, T. A Barron, Marissa Moss, Todd Parr, David Schwartz and Michael Emberley. The authors often sponsor a book signing and talk about their books. This parent-only event is a popular one for Family Connections. We sell out each year to an audience of over 300 people.
Please watch this space for details on our next "Evening with Children's Authors" - our 11th annual upcoming fundraiser in the fall of 2009!
Family Connections Celebrates 10 Years of "An Evening with Children's Authors"!!
A few hundred Family Connections supporters and children's book enthusiasts came to Hiller Aviation Museum for the 10th annual "An Evening with Children's Authors" fundraising event on November 5, 2008.   
The event went off flawlessly, thanks to the monumental efforts of our volunteer organizing committee, and many volunteers at the event. Authors/illustrators Anna Grossnickle Hines,  Jeanne DuPrau and Thacher Hurd  generously donated their time to come talk to the attendees about their careers, and told wonderful stories about their books.
We are truly grateful to our sponsors and our donors.The success of this fundraiser is largely due to the generosity of our supporters and donors. 
To mark our 10th annual event, alumnus Alex Garcia (now a sophomore at Junipero Serra High School in San Mateo) and his mother Maria Moreno, spoke about how they benefitted from their education at Family Connections.  Alex was recognized by his high school following the presentation.  Current parent and board member Julia San Bartolome concluded the participant speeches with a heartfelt thank you to all of the supporters of Family Connections.
"I love attending Family Connections' family night. I try to get as much information as possible to take home to help myself and even network with my family and friends if they need support too."